Making the decision to have hearing aids fitted is a big step for many people. While it can initially be a scary thought, purchasing hearing aids can drastically improve your quality of life. They can make you feel more confident in yourself and allow you to thrive in social situations. There's many different models, styles, and features to consider. Therefore, it's hugely important to find the perfect hearing aid to fit you and your lifestyle. In this blog, we'll help you understand how hearing aids work, the different types available and the advanced technology within these devices.
The Basics of A Hearing Aid
A typical hearing aid consists of four key components: a microphone, a processor, an amplifier, and a speaker.he microphone picks up sound waves from your surroundings, which are then converted into electrical signals by the processor. The amplifier works to strengthen these signals to meet your specific hearing needs, which are then sent into your ear through a tiny speaker.
Everyone suffers with different levels and forms of hearing loss, meaning that there is no 'one size fits all' solution when it comes to hearing aids. There are many different types, all offering various features at various price points.
Types of Hearing Aids
There's a lot to think about when it comes to finding your perfect hearing aid. Finding the right hearing device for you depends on the type of fit you desire and the level of hearing loss you suffer with. Not all styles of hearing aids are suitable for everyone. There are 3 main types of hearing aids:
Receiver-In-Canal (RIC): This is usually what people think of when they think of hearing aids, but nowadays they are so much more discreet and high-tech than you might think. They feature a small section that sits behind your ear, with a thin speaker wire that then channels sound into the ear canal. They are suitable for most forms of hearing loss and tend to contain the highest levels of technology such as directional microphones, dual processors, lithium-ion rechargeability and Bluetooth connectivity. These are a great option for those who want a comfortable, high-tech hearing device with little maintenance.
In-the-Canal (ITC): These fill the opening of the ear and extend further into the ear canal. They're less visible but also not usually as powerful for people with severe hearing loss. We'd recommend these if you suffer with mild-to-moderate hearing loss.
Completely-In-the-Canal (CIC): These fit snug inside the opening of the ear. They're more subtle in design, so if you're worried about your device being on show, this is a suitable option for you. While they may take a bit of getting used to, they are suitable for most kinds of hearing loss.
Book a consultation with our audiologists to discuss which hearing aid style would be best for you.
Additional Features for Hearing Aid Devices
Hearing aid technology has come a long way. With features like seamless control through mobile apps, Bluetooth connectivity, the ability to fill in sound gaps in your environment, it's never been easier to improve and manage your hearing. Below, you'll find some examples of the hearing aids we offer.
Signia Silk Charge&Go IX
The Signia Silk Charge&Go IX is an In-the-Canal hearing aid. It's designed to be discreet, so most people may not even notice you're wearing it. This is great for people who are feeling conscious of their devices showing.
The Silk Charge&Go IX features rechargeable batteries, and a convenient wireless charging case. Gone are the days of worrying about your hearing aid running out of battery. It also features advanced hearing technology, to focus on speech from the front, making it much easier for you to hear in noisy environments. They are simple to use, and you can even customise your hearing settings using the Signia Mobile app.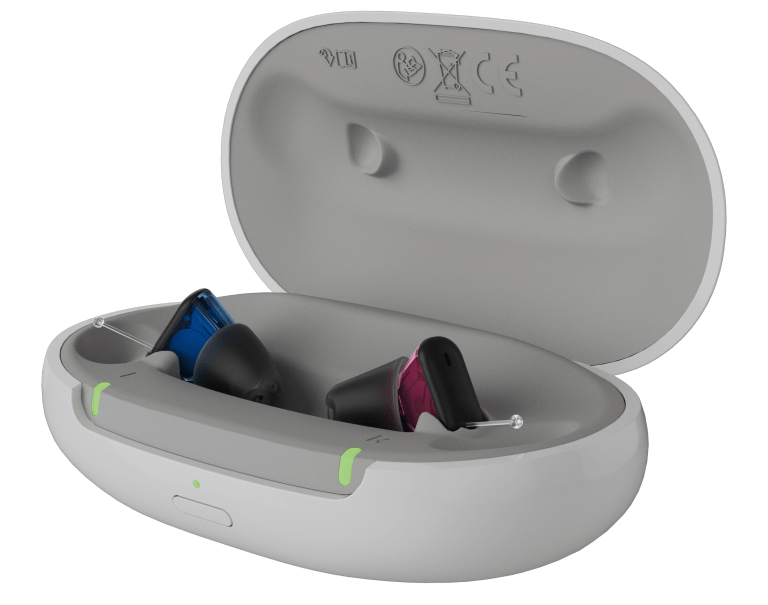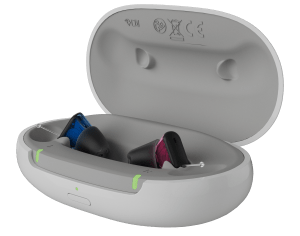 Widex Moment:
Widex Moment range offers Receiver-in-Canal hearing aids, featuring Puresound technology which brings a whole new experience of natural sound for your hearing. This technology allows for much clearer and higher-quality hearing from your hearing aid device.
Similar to the Signia Silk Charge&Go, the Widex Moment comes in a handy rechargeable case and can be connected to the Widex Moment App. Designed with durability in mind, these hearing aids have fewer gaps to reduce the risk of moisture damage. The Widex Moment is also available is an Completely-In-The-Canal fit.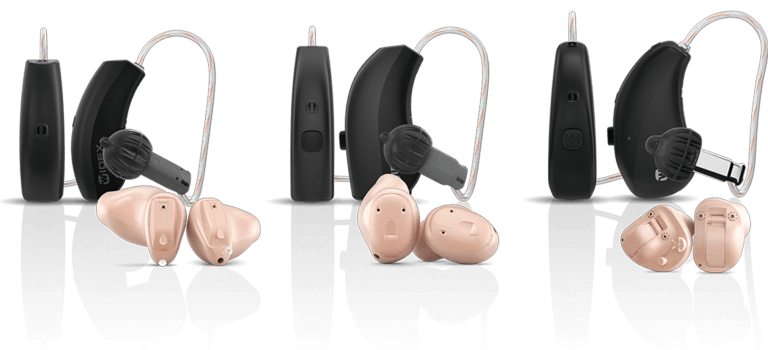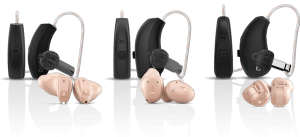 ReSound Omnia:
The Resound Omnia range offers a wide selection of hearing aid fits, including an In-the-Ear fit. These hearing aids feature rechargeable batteries and come with charging case for added convenience.
The Omnia range has been designed for enhancing your hearing in noisy environments, with advanced directional microphones that capture more natural sounds. They can also be connected to the ReSound Smart 3D mobile app which includes a 'check my fit' feature, allowing you to easily check and adjust your devices if needed.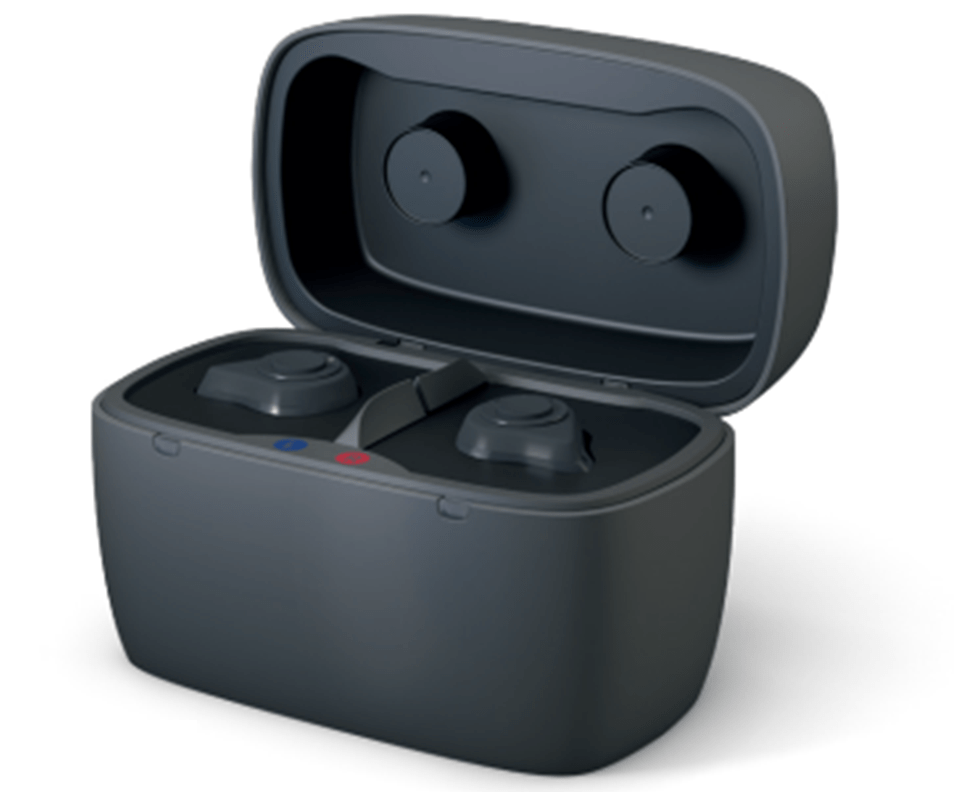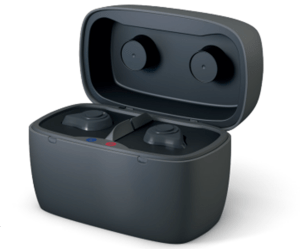 At DigiClear, we pride ourselves on treating each client like family and providing the best care and advice for your individual needs. We offer a range of hearing aid packages, each tailored to meet varying hearing needs and environments. Take a closer look at our hearing aid packages below:
Bronze package
Priced at £2800 per pair
Designed for those looking to improve their hearing in quieter environments. The bronze package includes:
A two-year guarantee and aftercare (worth £680)
A two-year battery supply or rechargeable option
A rehabilitation plan (worth £495)
Silver Package
Priced at £3500 per pair
Most suitable for mild noise environments, such as watching TV. The silver package includes:
A two-year guarantee and aftercare (worth £680)
A two-year battery supply or rechargeable option
A rehabilitation plan (worth £495)
Gold Package
Priced at £4200 per pair
Ideal for more varied environments, such as family gatherings or listening to music. The gold package includes:
A four-year guarantee and aftercare (worth £1360)
A four-year battery supply or rechargeable option
A rehabilitation plan (worth £495)
Platinum Package
Priced at £4900 per pair
Offering the best possible hearing in any environment. Great for restaurants, theatres, and functions. The platinum package includes:
A four-year guarantee and aftercare (worth £1360)
A four-year battery supply or rechargeable option
A rehabilitation plan (worth £495)
For hearing aid devices purchased elsewhere, we also offer a reprogram and rehabilitation plan, including a two-year manufacturer's warranty and two-year after care. This plan is priced at £1200.
All prices correct at time of publishing – November 2023.
When it comes to hearing aids, there's a lot of choice and features to be considered. Although it might be overwhelming at first, it's incredibly important to get it right. Our friendly team of audiologists are here to help you find your perfect hearing aids. Book a consultation with us today to discuss your hearing options.